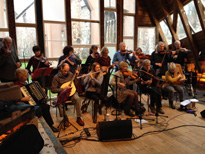 Highly Strung Community Band
We play traditional dance music from England, Ireland and Scotland for ceilis, fetes and community events.
Highly Strung playing at Sanctum in Bristol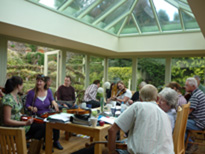 We meet weekly to practice and learn new tunes. We learn by ear and also have the option of revising tunes at home with on-line recordings and visual aids such as tabulature and manuscript.
Weekly group practice session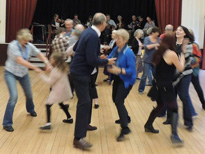 Beginners are encouraged to play with more experienced players at one of our weekly events. Use your new skills in practical and fun way with others and quickly gain in confidence.
Highly Strung Band playing at a charity barn dance
For further information on how to book the band, join the band,
or to go on an e mail list to be informed of our ceili dates
please e mail
info@highlystrungcommunityband.co.uk
or ring Jill Elliot
01275 847909 - 07515 904 707
or go to our other websites
www.fiddlelessons.co.uk - click here
www.perfectcureband.com - click here