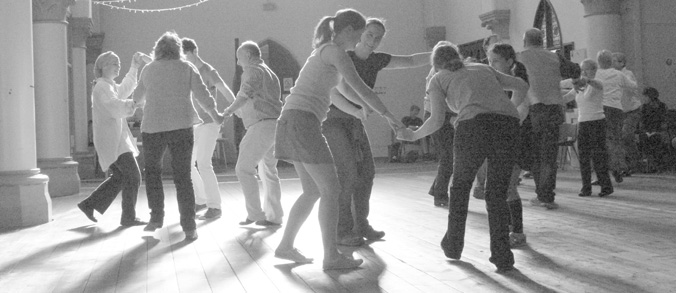 It's Your Ceili - 2017 Series
Ceili/Barn dance series with live music from the
Highly Strung Community Band
Fun-filled evening for all including novices.
All dances walked through first and
then called by Jill Elliot along with the live music.
This is a dance party that will see you smiling and laughing
all evening long.
2017 Series - 7.30pm - 10.30pm - Profit to Bristol Charities
Friday 3rd March - Bristol Autism Support
Friday 5th May - Bristol Eating Disorders Support Group
Friday 7th July - Bridge Foundation
Friday 1st September - Crohn's and Colitis Charity
Friday 3rd November - Crisis at Christmas
St. Albans Church Hall, Westbury Park, Bristol, BS6 7NS
(entrance in Bayswater Avenue)
Tickets £10 in advance or £12 on the door
Licensed cash bar and pasties and cookies to buy during a break.
To buy in advance please Click here to buy tickets on line
any questions please e mail jillyelliot@gmail.com